Fun
At Jump City, we strive to make every day fun. Whether we are trying out new products, taking selfies together at a company luncheon, scootering through our office, or delivering cool and unique experiences to our customers, everyday is a good day at Jump City!
Culture
We enjoy a diverse and inclusive workplace. We believe in rewarding our team based off of their talent and commitment to making the customer experience one to enjoy. We are candid and hold each other accountable. We are fair. We are fun (don't forget it). We are capable of creating an awesome atmosphere TOGETHER.
Commitment
Whether we are serving just a few parties or hundreds across Minnesota, we are ultra committed to our customers and to each other to get the job done. After all, the event doesn't happen without us and we only get one shot to make an event happen and do it right.
Growth
We thrive on the growth of our Team. Whether are looking for a part-time summer job or a full-time career, our mission is to make sure you learn, have a great time, and grow while you are here. "The journey is never-ending. There's always gonna be growth, improvement, adversity; you just gotta take it all in and do what's right, continue to grow, continue to live in the moment."

About Us
Jump City is a family owned and operated party rental company located in Twin Cities. We offer our children's party products and services to families throughout Minnesota and larger Events and Festivals throughout the Midwest. We have one of the largest selections of inflatable rides - moonwalks, bounce houses, bounce and slide combos, obstacle courses, interactive games, rock wall, slides, games and more - in the Twin Cities Metro

Our primary goal is to provide entertainment for families, schools, businesses, social organizations, community festival and events, and places of worship and at a reasonable value without sacrificing safety.

We use only commercial-grade equipment in good repair.
We are licensed and insured
We stay abreast of trends in safety and the latest entertainment offerings
We make our Services convenient for our clients by offering an online reservation system available 24/7
Home Page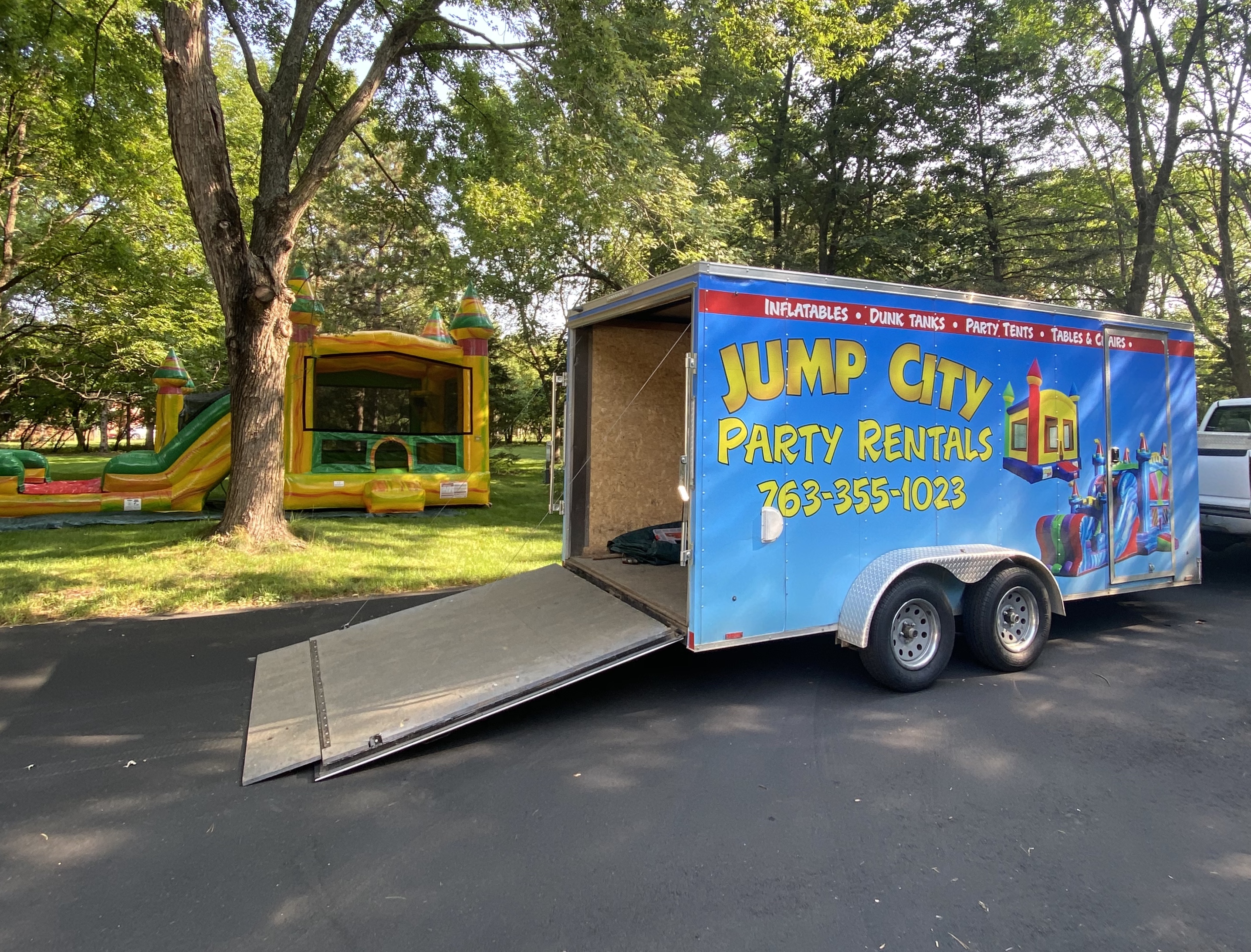 Drivers
$15.00-$19.00 + Tips

Jump City delivers fun to the entire Twin Cities every day of the week. You can fulfill a position using our trucks and trailers in this fun high paced environment.
Riders
$14.00-$18.00 + Tips

Be apart of the Jump City team setting up inflatables, tents, dunk tanks, rock-walls or anything else you may need for any party or event!
Warehouse
$14.00-$16.00

Warehouse team members are responsible to keep the warehouse clean and organized. Responsibilities would include cleaning all rental equipment, cleaning trucks/trailers and organizing the warehouse.
Event Staff
$12.00-$14.00

Be apart of the Jump City Team without all the lifting. Jump City hosts events every week and we need some extra help to watch over the events! Join the fun and fill out the application below!
Jump City Rental Job Application
Please fill out all the information to the best of your ability, when done hit submit. Try to avoid using the back button on your browser throughout the application process. Thank you for choosing Jump City Rentals.